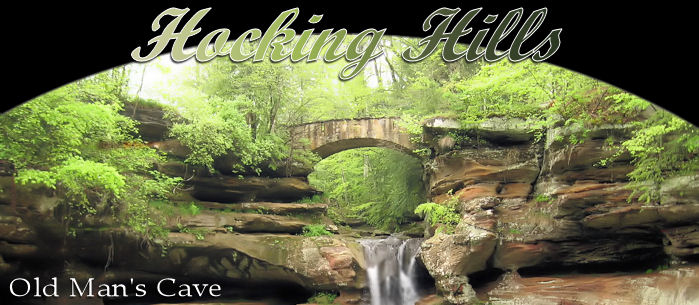 GORGEOUS GORGES….CALM WATERS…..CASCADING WATERFALLS….
   The Hocking Hills is one of the most unique areas where the Southern Appalachia meets Northern Canada.  This amazing area is like no other and was created as the Wisconsin Glacier pushed down from Canada and stopped just north of the Hocking Hills.  Delivering a southern flow of flora and fauna from the north this incredible combination of foothills, glacier and erosion have created curved caves, rock outcroppings, blended flora & fauna and waterfalls in our amazing wonderland of nature!
GREAT THINGS TO DO IN THE HOCKING HILLS!

 HIKING – HOCKING HILLS STATE PARKS
        Old Man's Cave                     Pet Friendly
        Ash Cave                              Pet Friendly
        Cedar Falls                           Pet Friendly
        Rock House                          Pet Friendly
        Cantwell Cliffs                       Pet Friendly
HIKING – HOCKING HILLS NATURE PRESERVES
        Rock Bridge                         No Pets Please
        Conkle's Hollow                    No Pets Please
ZIPLINE  - Hocking Hills Canopy Tours  
CANOEING  - Hocking Hills Canoe Livery
                      - Hocking Valley Canoe Livery & Fun Center
BIKEWAY  - Hock-Hocking Bike Trail – Nelsonville (19 miles)
               - Hocking Hills Mountain Bike Trail (4 miles)
               - Lake Hope Single Track Bike Trail (23 miles)
HORSEBACK RIDING – Happy Trails Horseback Rides – Big Pine (only 2 miles away)
GOLF – Hocking Hills Golf Club – Logan
MINIATURE GOLF – Adventure Golf at Rempel's Grove – Logan
MOVIE THEATRE – Movies 10 – Nelsonville ($4 tickets)
ATV RENTALS -  The Wayne National Forest – Nelsonville
GEOCACHING – GPS Scavenger Hunt – 3 Trails – Hocking Hills Welcome Center
PONTOON BOATS  – Lake Logan
FISHING  - Lake Logan
                - Rose Lake
                - Clear Creek Metro Park
EVENTS  -  TECUMSEH – Outdoor drama set in 1700's at Sugarloaf Mountain Amphitheatre, Chillicothe
                -  FINAL FRIDAYS ON THE SQUARE – Nelsonville.  Final Friday on every month except December
                -  LILYFEST – Unique Event every July
                -  SHOOT THE HILLS - Photo competition fundraiser every April
                -  WASHBOARD FESTIVAL -   Street festival every June
                -  WINTER HIKE - Annual hike at Hocking Hills State Parks every January
                -  HOCKING HILLS INDIAN RUN - 5k, 10k, 20k, 40k, & 60k races in September
BEAD MAKING – LIQUID LIGHT FINE ARTS WORKSHOP – LOGAN (only 1 mile away)
SCENIC TRAIN RIDE -  HOCKING VALLEY SCENIC RAILROAD - Nelsonville
SHOPPING   - HOCKING HILLS MARKET – Rockbridge
                     -  FLEA MARKET   Fri, Sat & Sun during summer
                     -  LOGAN ANTIQUE MALL - Logan
                     -  OLDE SHOE FACTORY ANTIQUE MALL – Lancaster
                     -  STARBRICK GALLERY – Nelsonville
                     -  HISTORIC SQUARE ART DISTRICT – Nelsonville
                     -  REMPEL'S GROVE – Logan
                     -  SPRING STREET ANTIQUE MALL – Rockbridge
                     -  WIND CHIME SHOP -  Logan
AREA DINING    -  HOCKING HILLS DINING LODGE – Near Old Man's Cave
                           -  LOS AMIGOS MEXICAN RESTAURANT - Logan
                           -  MILLSTONE SOUTHERN SMOKED BBQ – Logan
                           -  RHAPSODY (HOCKING COLLEGE CULANRY COLLEGE) Thur, Fri, Sat only – Nelsonville
                           -  RIDGE INN RESTAURANT – Laurelville
                           -  INN & SPA AT CEDAR FALLS – Logan
                           -  GROUSE NEST RESTAURANT – Logan
                           -  GLEN LAUREL A SCOTTISH INN – Logan
                           -  M&M FAMILY DINING – Logan
                           -  PIZZA CROSSING – Logan
                           -  LITTLE CEASARS – Logan
                           -  DOMINOS – Logan
                           -  CRISTYS – Logan
                           -  MCDONALDS – Logan
                           -  BURGER KING – Logan
                           -  ARBY -  Logan
                           -  WENDYS – Logan
                           -  DAIRY QUEEN – Logan
                           -  KENTUCKY FRIED CHICKEN – Logan
                           -  BOB EVANS – Logan
                           -  OLD DUTCH RESTAURANT – Logan